Left Menu
The company Ets Röthlisberger SA install in 2006 in Glovelier a heat treatment plant. Here are specific properties of wood amended without addition of any chemicals product or gaz. The process is an hydrolisis in a closed vessel (autoclave), therefore with good controllability and repeatability. Compared with heat-treatments using inert gas (pyrolysis), we achieve same results and colours are with 30 -50°C less and without anhydrous transition, with brings high stresses to treated timber . We offer two variations:

1. Our THERMO-treatment (also known as thermal or heat treatment) expose Hard- or Softwood to high temperatures (150 bis 200°C) for a definite duration and process, in order to increase durability and dimensional stability.
2. Our VAPO-treatment also occurs in a satured steam, but with lower temperatures. This corresponds to a high pressure steaming (HPS) and insure the perpetuation of structural properties of timber. It gives to the wood a very nice, rustical and antique appearance.
These are very ecological processes: they don't use any treatment product and allow new valorisations for our local wood species.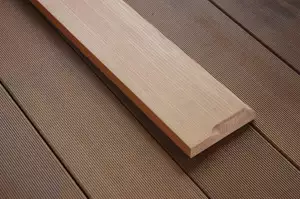 Main advantages
Thermowood has stabile dimensions: the humidity of timber is consequently reduced, and also the possible water absorbtion. Schrinkage and swelling are decreased up to 60% 


Thermowood is durable: the heat treatment achieve a degradation of the hemicellulose. So becomes the timber much less attractive for wood destructing micro-organisms, fungi and insects, and therefore much more durable. Heat treated timber can be used for outside uses, but without ground contact. 





Thermowood is noble: The heat treatment confere our home-grown wood species noble and precious character. New exotic wood tones are given through all the timber thickness of hardwoods, and softwoods becomes darker, similar to reclaimed wood.
Applications
Wellness- and wet areas, swimming pools and saunas
Outdoor flooring
Windows, shuters and outer doors
Claddings and clapboards
Garden furniture, Carports
Playground equipments
Boot building,
..and the new "Swiss Wood" pencils by Caran d'Ache !